Privacy Policy
So What?! Music Festival
Disco Punk LLC (hereinafter, "Disco Punk," "we," "our," or "us") is always concerned about your privacy. We, therefore, provide this privacy notice ("Notice") to inform you of our policies and procedures regarding the collection, use, and disclosure of personal information and data we receive from users of the websites we own and operate, including, but not limited to, www.sowhatmusicfestival.com, (the "Site"), and the other services, features, content and applications offered by us on the Site. The Site and any other services (such as our mobile applications), features, content and applications offered by Disco Punk may each be referred to herein as a "Service" and collectively as the "Services." This Notice applies only to information collected through the Services and is hereby incorporated into the Terms of Use governing your use of the Services, which are available at www.sowhatmusicfestival.com/terms-of-use.
To be clear about the terminology we are using, when we use the phrase "Personal Information" in this Notice, we mean information about you that is personally identifiable, such as your name, physical address, e-mail address, billing information, and telephone number, as well as other non-public information that is associated with this personal information. When we use the phrase "Anonymous Information" in this Notice, we mean information that is not personally identifiable, or linked to your Personal Information such as aggregated information, general demographic information and Internet Protocol (IP) addresses. Anonymous Information does not necessarily enable identification of individual persons.
IF YOU ARE USING OUR SERVICES IN THE EUROPEAN UNION, ASIA, OR ANY OTHER REGION WITH LAWS OR REGULATIONS GOVERNING PERSONAL DATA COLLECTION, USE, AND DISCLOSURE THAT DIFFER FROM UNITED STATES LAWS, PLEASE BE ADVISED THAT THROUGH YOUR CONTINUED USE OF THE SITE AND SERVICES, WHICH ARE GOVERNED BY UNITED STATES LAW, THIS PRIVACY NOTICE, AND OUR TERMS OF USE, YOU MAY BE TRANSMITTING YOUR PERSONAL INFORMATION TO THE UNITED STATES AND YOU CONSENT TO THAT TRANSMISSION. ADDITIONALLY, YOU UNDERSTAND THAT YOUR PERSONAL INFORMATION MAY BE TRANSMITTED TO AND PROCESSED IN COUNTRIES (INCLUDING THE UNITED STATES) WHERE LAWS REGARDING PROCESSING PERSONAL INFORMATION MAY BE LESS STRINGENT THAN THE PROCESSING OF PERSONAL INFORMATION IN YOUR COUNTRY.
1. The Information We Gather
We collect and maintain information obtained through your use of the Services. Disco Punk, or any other third-party, may combine or associate the information collected under this Notice with other information about you. Third-party services, or other such business partners, may also provide Disco Punk with information allowing Disco Punk to supplement existing user information about you with such additional information.
Disco Punk may collect information in the following ways:
When you register for a Service, such as sweepstakes, contests, newsletters, purchases, or surveys, we may collect certain Personal Information including your name, e-mail address, physical address, online username, billing information or other information required for that particular Service;
When you contact customer support services via e-mail, text, or through one of the Services, you may be required to provide us with Personal Information;
When you post content or make a submission of any kind on the Services; and
If you purchase a product or service through the Site or one of the Services, we or a third-party services provider may collect payment and/or credit card information on our behalf.
You may choose not to provide us with certain information and this may stop you from gaining access to a Service or limit the features that you can use. It may also be possible to register for other third-party services and websites through our Site, and in such cases, this Notice shall not apply.
You may request that any Personal Information we receive from you be deleted from our database or that your account be deleted at any time. Please review Section 10 below regarding Your Choices for further information.
As you use the Services, certain information may also be passively collected. Through technologies like cookies, pixels, beacons, and log files, we may collect information about how you use the Services. Please see the sections below on Cookies and Log Data for more information.
We may receive information from third parties. For example, we may receive Personal Information about you from social networking websites. In such a case, it will be the responsibility of the third-party to notify you that we will have access to your information and the governing privacy policy.
2. How We Use Your Information
We will use your Personal Information in the ways described below or described at the time that the information is collected.
In general, we use your Personal Information as necessary or appropriate to:
Administer your ticket;
Provide you with customer support;
Register you and provide you with access to the Site or Services;
Perform the Services;
Respond to your inquiries or requests;
Send communications and administrative e-mails about the Site or Services;
Personalize and better tailor the features, performance and support of the Site and Services for your use;
Send you promotional/marketing information, newsletters, offers or other information from us or on behalf of our sponsors or partners;
Provide you with opportunities and functionality that we think would be of particular interest to you;
Improve the quality of the Site and the Services;
Contact you regarding your survey responses, or your promotion, sweepstakes or contest entry; and
Analyze, benchmark and conduct research on, user data and user interactions with the Services.
Log Data. When you use our Services, our servers automatically record information from your browser ("Log Data"). This Log Data may include information such as your computer's Internet Protocol (IP) address, browser type, the webpage you were visiting prior to your arrival at the Site, the pages of our Site that you visit, the time spent on those pages, access times and dates, and other statistics as well as the unique identifier for your computer, mobile telephone, or any other electronic device used to access our Services. We use this information to monitor and analyze use of our Services, for their technical administration, to increase their functionality and user-friendliness, and to better tailor them to the needs of our users. We also use this information to verify that users of our Services meet the criteria required to process their requests. We do not treat Log Data as Personal Information or use it in association with other Personal Information, though we may aggregate, analyze and evaluate such information.
Cookies. Like many websites, we use "cookies" to collect information. A cookie is a small data file that we transfer to your browser for record-keeping purposes. We use cookies for two purposes. First, we may utilize persistent cookies to save your registration information. Second, we utilize session ID cookies to enable certain features of the Services, to better understand how you interact with the Services and to monitor aggregate usage and web traffic routing on the Services. Unlike persistent cookies, session cookies are deleted from your computer when you log off from the Site and close the browser/application. Third-party advertisers on our Services may also place or read cookies sent by your device. You can reset your browser, by changing its options to stop accepting cookies or to prompt you before accepting a cookie from the websites you visit. If you do not accept cookies, however, you may not be able to use all portions or functionalities of our Services. Any Personal Information gathered through the use of cookies is subject to the same efforts to protect your privacy as outlined above. Some cookies and other technologies may continue to collect information after you have stopped using our Services but continue to use other, third-party services. If you choose to accept cookies, you do so at your own risk. In no way are we responsible or liable for you accepting cookies to have full access to our Site or Services.
3. How We Share and Disclose Information
We know how important it is to keep your information confidential. If you do not want us to use or disclose Personal Information collected about you in the ways identified in this Notice, you may choose not to provide your Personal Information or you may choose not to use the Site or Services.
Users. Any information you choose to share on your profile page or in connection with the use of forums or message boards should reflect how much you want Disco Punk, other Disco Punk users, and third parties to know about you. We recommend that you guard your anonymity and Personal Information and we encourage you to think carefully about what Personal Information you disclose through these platforms.
Service Providers. We may employ third-party companies and individuals and share your Personal Information and other data collected to facilitate or enhance our Services, to provide the Services on our behalf, to perform tasks (including, without limitation, maintenance services, database management, web analytics and improvement of our Services) or to assist us in analyzing how our Services are used. Disco Punk reserves the right to share, without your consent, certain Personal Information collected with third-party services provided such Personal Information has been reasonably de-identified.
Affiliate Service. When you access a website or communicate with or use an application (mobile or otherwise) operated by any entity other than us (e.g., the iTunes App Store, a social networking site such as Facebook or Twitter, or one of our sponsors, venues, or promoters) through our Services, the website or service is known as an Affiliate Service. We may, without your consent, share your Personal Information and other data collected about you with such Affiliate Services. Your use of the Affiliate Services is your choice, and you should be aware that our Affiliate Services may collect information about you. Accordingly, if you use an Affiliate Service, you should consult that specific Affiliate's privacy policy before providing Personal Information. Some of our Affiliates may create "co-branded pages" or "powered by" pages for our Services. These might include pages that share our name and that of another entity. There may be a specific privacy policy on any such co-branded page. Any Personal Information that you provide when you sign up at any co-branded page may be collected by, or shared with, our third-party Affiliate. Please see the specific Affiliate's privacy policy to better understand what information is collected, how it is used and shared, and your choices regarding control.
Aggregated, Anonymous Information. Aggregated Anonymous Information is the combination of your Anonymous Information with the Anonymous Information of other users. Aggregated Anonymous Information does not allow you to be identified or contacted. We may share such Aggregated Anonymous Information with third parties, and, depending on the circumstances, we may or may not charge third parties for such information, or limit the third parties' use of the same.
Compliance with Laws and Law Enforcement. We will disclose any information about you, without your consent, in our sole discretion, at any time for any reason without giving you prior notice, to government or law enforcement officials or private parties as we in good faith believe necessary or appropriate to respond to claims and legal process (including, but not limited to, subpoenas), to comply with applicable laws, to protect the property and rights of Disco Punk, you or a third-party, to protect the safety of the public or any person, or to prevent or stop activity we may consider to pose a risk of being, or is illegal, unethical or legally actionable.
Within our Company; Changes to our Company. We may share all or some of your Personal Information with any of our subsidiaries, joint ventures, or other companies under common control, in which case we will require them to honor this Notice. Additionally, in the event we go through a business transition such as a merger, acquisition by another company, or sale of all or a portion of our assets, your Personal Information may be among the assets transferred. You acknowledge that such transfers may occur and are permitted by accepting this Notice, and that any entity that acquires us, is merged with us or that acquires our assets may continue to process your Personal Information as set forth in this Notice.
Online Surveys/Sweepstakes and Contests. From time to time, we conduct online surveys and offer sweepstakes or contests on the Site (each, a "Promotion"), and we may collect Personal Information in connection with the same. By registering for a Promotion, you agree to allow Disco Punk or third-party services to collect your Personal Information and use that Personal Information, and any other data collected, to administer and analyze the Promotion. You should carefully review the rules, if any, of each Promotion in which you participate, as they may contain additional important information about the use of your Personal Information. To the extent that such rules conflict with this Notice, the Promotion rules will govern that particular Promotion.
4. Forums, Message Boards and Chats
We may make message boards, chat rooms, and other interactive forums available as Services. You should be aware that any information which you post to these interactive forums or otherwise choose to make publicly available, including your Personal Information, may be disclosed and available to all users who have access to that portion of the Service, and is no longer private and confidential. You should be aware that any Personal Information you submit in the course of these public activities can be read, collected, or used by other users, and could be used to send you unsolicited messages. We are not responsible for the Personal Information you choose to submit in these forums. If you post a video, image, or photo for public view you should be aware that these may be viewed, collected, copied and/or used by other users without your consent. By using these interactive forums, you agree that we are not responsible for any information that you disclose or communicate in such forums, and any disclosures you make are at your own risk. Please be thoughtful about what you post and make publicly available through the Services. We may maintain copies of any information you post indefinitely or delete certain information in whole or in part if we determine, in our sole discretion, that such information constitutes an infringing or a prohibited posting as described in our Terms of Use, or for any or no reason. You are solely responsible for your interactions with others you interact with in our Services. You understand and agree that we do not screen our users, nor do we inquire into the backgrounds or attempt to verify the statements of our users, except as provided for herein with respect to children less than 16 years of age. You agree to take reasonable precautions in all interactions with other users of our Services. You should not provide financial information (for example, your credit card information or bank account information) to other users of our Services. Disco Punk may use the information collected in connection with your profile page and use of the forums or message boards to update our databases or to contact you about any content you may have posted. Posting content that references any of Disco Punk's official accounts or Services on any other third-party services or social media platforms may allow us to receive Personal Information about you from such third-party services or social media platforms. In such cases, please refer to the privacy policy or Notice of the third-party service or social media platforms for more information.
5. Children's Information
The Services are not directed to, or intended for, children under 16 years of age. We do not knowingly collect or solicit Personal Information from individuals under 16 years of age. No one under the age of 16 may provide any Personal Information through our Services. For the avoidance of doubt, if you are under 16 years of age, you should not register or provide Personal Information through our Services. If we later obtain actual knowledge that a user is under 16 years of age, we will take steps to remove that user's Personal Information from our systems. If you are the parent or guardian of a child whom you believe has disclosed Personal Information to us, please contact us at info@sowhatmusicfestival.com so that we may delete and remove such child's information from our systems.
We strongly recommend that minors 16 years of age or older ask their parents for permission before sending any information about themselves to anyone over the Internet and we encourage parents to teach their children about safe Internet use practices.
6. Social Media and Online Engagement
We use a variety of technologies and social media options to communicate and interact with our users, including popular social networking and media websites, open-source software communities and more. To better engage the public in ongoing dialog, we use several third-party platforms including, but not limited to, Facebook, Twitter, YouTube, Snapchat, TikTok, and Instagram (collectively, the "Platforms"). "Third-Party Websites and Applications" are web-based technologies that are not exclusively operated or controlled by us. When interacting with the Disco Punk presence on those websites, you may reveal certain Personal Information to us or to third parties, which are subject to their own privacy policies. If your use of any Platform, plugin, API, or feature references Disco Punk in any way, we reserve the right to share, repost, or otherwise collect such information as permitted by the terms of use governing the service on which Disco Punk was referenced on. For additional information on our social media policies, please visit the following link: www.sowhatmusicfestival.com/social-media-disclaimer.
7. Other Third-Party Links
The Services may link to websites operated by third parties that we do not control, including the third-party websites and Applications described above. This includes any websites that you linked to from advertisements that appear on the Site. We do not monitor, control, or endorse the information collection or privacy practices of any third parties. We encourage you to become familiar with the privacy practices of each website you visit and to contact them if you have any questions about their respective privacy policies and practices. This Notice applies solely to information collected by us through our Services and does not apply to these third-party websites. The ability to access information of third parties from our Services, or links to other websites or locations, is for your convenience only and does not signify our endorsement of such third parties, their products, services, websites, locations or their content.
8. Ad Networks and Third-Party Cookies
We may have agreements with companies, sometimes called "Ad Networks" that advertise through our Services on behalf of third parties. These Ad Networks may place or recognize a "third-party cookie," on your browser. Ad Networks use cookies to understand the Web usage patterns of people who see advertisements, to control the sequence of advertisements you see, to provide you with the most relevant advertising, and to make sure you do not see the same ad too many times. Ad Networks may connect information about pages you visit through our Services with information about pages you visit on other sites and show you advertising based on this combined information. We do not control Ad Networks or what they do with the information they collect.
Network Advertising Initiative. Many Ad Networks participate in the Network Advertising Initiative (NAI) and abide by NAI principles, which prohibit members from connecting Personal Information to information they collect through cookies without your explicit consent. If you wish to opt-out of participating in advertising programs conducted by NAI member Ad Networks, please go to the following NAI Opt-Out website and follow the instructions: www.networkadvertising.org/choices. After you opt-out, you will still see advertisements from NAI member Ad Networks, but the advertising will not be tailored to your web preferences and usage patterns. We believe users should be informed about online advertising technologies and have the ability to choose whether they receive ads targeted to their interests. For more information about targeted advertising, please click the following link: www.aboutads.info.
Google Analytics. We may use Google Analytics, which is a website analysis service provided by Google Inc. ("Google"). Google Analytics uses "cookies" to analyze your use of the Services. The information generated by the cookie about your use of the Services is sent to and stored at a Google server in the U.S. Google will use this information to evaluate your use of the Services, to compile reports on your activities for website operators. Google will not associate your IP address with any other data held by Google. You can prevent the installation of cookies by adjusting the settings of your browser; however, if you do so, you may be unable to use all features of our Services and the functionality of our Services may be impaired. Further, you can prevent the collection of data generated by cookies and related to the use of this website by downloading and installing the "plug-in" located at the following link: https://tools.google.com/dlpage/gaoptout.
Google AdSense. We may use Google AdSense, which is a service provided by Google to embed commercial information. Google AdSense uses "cookies" to analyze the use of the Services. Further, Google AdSense also uses web beacons (invisible images). These web beacons help process information, such as visitor traffic, on our Services. The information generated by cookies and web beacons about your activity (including your IP address) is sent to and stored at a Google server in the United States. Google may also transfer this information to their contractual partners. However, Google will not associate your IP address with any other data stored at Google. By using our Services, you agree to the processing of the collected information by Google, according to the above-mentioned purpose.
9. Security and Data Retention
Disco Punk is very concerned with safeguarding your information. We employ administrative, physical, and electronic measures designed to protect your information from unauthorized access. We will make any legally required disclosures of any breach of the security, confidentiality, or integrity of your unencrypted electronically stored "personal data" (as defined in applicable state statutes on security breach notification) to you via e-mail or conspicuous posting on the Services in the most expedient time possible and without unreasonable delay, insofar as consistent with (i) the legitimate needs of law enforcement or (ii) any measures necessary to determine the scope of the breach and restore the reasonable integrity of the data system. Although "guaranteed security" does not exist either on or off the Internet, we make commercially reasonable efforts to make the collection and security of such information consistent with this Notice and all applicable laws and regulations.
We will retain your Personal Information only for as long as necessary to fulfill the purpose(s) for which it was collected and to comply with applicable laws and your consent to such purpose remains valid after termination of our relationship with you.
10. Your Privacy Rights
You have several rights available when it comes to your Personal Information.
Right to Know About Personal Information Collected, Disclosed, or Sold. You have a right to know what Personal Information we may have collected, disclosed, or sold. You may request such information from us by sending an e-mail to info@sowhatmusicfestival.com or by visiting www.sowhatmusicfestival.com/do-not-sell-my-personal-information.
Right to Limit the Personal Data You Provide. You can still use our Services without providing any Personal Information or by limiting the Personal Information you provide. If you choose not to provide any Personal Information or limit the Personal Information you provide, you may not be able to use certain features of our Services and your functionality may be limited, including all the user benefits of your ticket.
Right to Opt-Out. When you supply us with Personal Information, you may be asked to indicate whether you are interested in receiving information from us about special offers in connection with the Site and Services, and/or our advertisers, sponsors or partners.
In all marketing e-mails and/or text messages, you will be given the opportunity to opt-out of receiving such messages in the future by clicking on the link at the bottom of the e-mail and/or text message that says "unsubscribe," or you may visit www.sowhatmusicfestival.com/do-not-sell-my-personal-information to opt-out. It may take up to ten (10) business days for us to process your opt-out request.
Even if you have unsubscribed from receiving marketing e-mails and/or text messages from us, we may send you other types of important e-mail and/or text message communications without offering you the opportunity to opt-out of receiving them, such as customer service announcements and administrative notices.
Please note that changing information or opting out of receiving marketing e-mail and/or text message communications will affect only future communications from us. If we already provided your information to a third-party (such as a sponsor or affiliate) before you changed your preferences or updated your information, you may have to change your preferences directly with that third-party as well.
Right to Request Deletion of Personal Information. You may request that we delete the Personal Information in your profile by notifying Disco Punk at the following e-mail address: info@sowhatmusicfestival.com or by visiting www.sowhatmusicfestival.com/do-not-sell-my-personal-information. You must specify in your e-mail the information you would like removed. Keep in mind that even if you request deletion or would like us to change your Personal Information, we may retain your Personal Information in conformance with our data retention policy and there may be residual Personal Information that remains within our databases, access logs, and other records. In addition, we are not responsible for updating or removing your Personal Information contained in the lists or databases of third parties who have been provided information as permitted by this Notice. Please do not provide sensitive financial information, such as a credit card number or bank account information, in any such communication.
Disclosure or Sale of Personal Information. You have the right to request that we disclose to you the Personal Information we collect, use, or disclose, and information about our data practices.
Right of Non-Discrimination for the Exercise of Your Rights. We will not discriminate against you in any way whatsoever based on your exercise to any of your decision to exercise any rights stated herein.
See also Section 12 of this Notice.
11. Your California Privacy Rights
If you are a resident of the State of California and have an established business relationship with us, you can e-mail us at info@sowhatmusicfestival.com to request a list of the personal information we have shared with third parties for their marketing purposes. You can make such a request one time each year, and we also will give you a list of the third parties that have received your information. Mention in your email that you are making a "California Shine the Light" inquiry and we will respond within thirty (30) days.
If you are a California resident, you have specific rights pursuant to the California Consumer Privacy Act (CCPA), including:
Disclosure. You have the right to request a report showing the personal information collected, shared, and sold about you in the preceding 12 months.
Opt-Out. You have the right to opt-out of the sale of your personal information to third parties.
Deletion. You have the right to request that we delete any personal information collected from you.
Non-Discrimination. We shall not discriminate against you based on your decision to exercise the above-stated rights.
You may submit a request to enact any of the above rights by sending us an e-mail at info@sowhatmusicfestival.com. We may require additional information such as your full name and e-mail address to verify your identity before responding to a CCPA rights request. We will respond to your request within 45 days pursuant to the law.
Personal Information collected on California residents includes:
Names and Aliases
E-Mail Address
Physical Address
Phone Number
IP Address
Information about transactions made on our services
Interactions with Customer Service
Fan Preferences and Attributes
Cookies/Web Beacons
Device Attributes
Personal Information Disclosed for a Business Purposes or Sold About California Residents: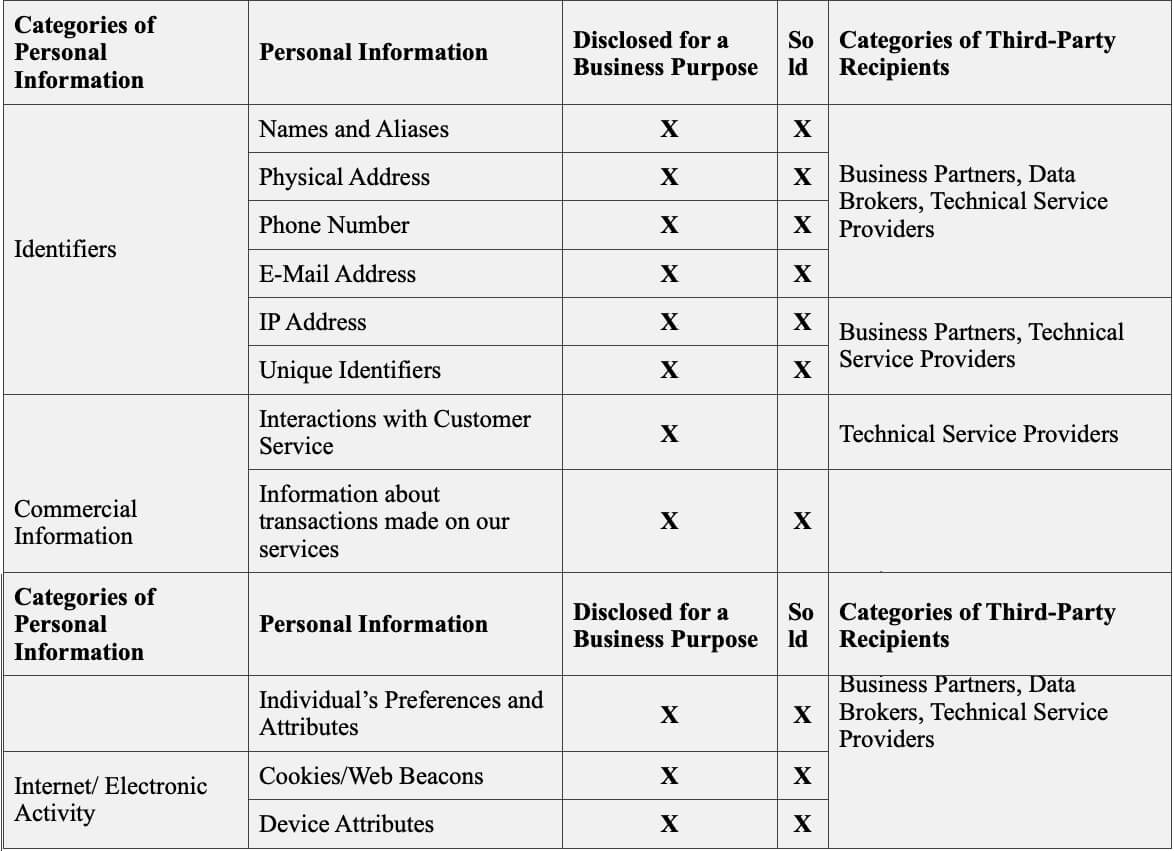 Sources of Data about California Residents:
Self-disclosed (e.g., Information provided when interacting with our products and Services);
Business partners (e.g., Analytics companies, promoters, artists, fan clubs, sports teams, venue owners, etc.);
Data brokers (e.g., Marketing companies, advertising partners, etc.); and
Technical service providers (e.g., Cloud service providers).
Business or Commercial Purposes for Collecting or Selling Personal Information about California Residents:
Providing products and Services;
Event management;
Market research and aggregated analytics;
To prevent, detect, and manage unlawful behavior;
Marketing;
Client services; and
Staff administration.
Third Parties with Whom we Share Personal Information:
Business partners (e.g., Analytics companies, promoters, artists, fan clubs, sports teams, venue owners, etc.);
Data brokers (e.g., Marketing companies, advertising partners, etc.); and
Technical service providers (e.g., Cloud service providers).
To opt-out of the sale of your Personal Information, please send us an e-mail to info@sowhatmusicfestival.com or by visiting www.sowhatmusicfestival.com/do-not-sell-my-personal-information.
You may designate an authorized agent to submit requests on your behalf. For an authorized agent to be considered verified, you must provide the authorized agent with signed, written affidavit to make such requests or a power of attorney. We may follow up with you to verify your identity before processing an agent's request.
Under California Civil Code Section 1789.3, California website users are entitled to the following specific consumer rights notice: The Complaint Assistance Unit of the Division of Consumer Services of the California Department of Consumer Affairs may be contacted by telephone at 1 (800) 952-5210.
12. Contact Information; Customer Preferences
If you have any questions about this Notice, please contact us via e-mail at info@sowhatmusicfestival.com or by mailing your question(s) to the following address:
Disco Punk LLC
4371 Northlake Blvd. #307
Palm Beach Gardens, FL 33410
Attn: Privacy Policy
If you would like to notify us of your Personal Information and/or marketing preferences, please visit www.sowhatmusicfestival.com/do-not-sell-my-personal-information.
13. Privacy Notice Changes/Modifications
We reserve the right to change, modify, add, or remove portions of this Notice at any time and without prior notice, and any changes will become effective immediately upon being posted unless we advise you otherwise. Your continued use of the Site or Services after this Notice has been amended shall be deemed to be your continued acceptance of the terms and conditions of the Notice, as amended. We encourage you to bookmark this webpage and review this Notice regularly.
14. Disclaimer of Liability
THERE MAY BE THIRD-PARTY LINKS ON OUR SERVICES, WHICH WILL SEND YOU TO WEBSITES THAT ARE NOT OWNED, MANAGED, CONTROLLED, OR OPERATED BY DISCO PUNK. CLICKING ON A THIRD-PARTY LINK IS DONE AT YOUR OWN RISK, AND BY DOING SO, YOU UNDERSTAND THAT YOU WILL BE SOLELY RESPONSIBLE FOR ANY LOSS OR DAMAGE THAT MAY RESULT FROM SUCH ACTION.